NEWS | Inside Caffè Populaire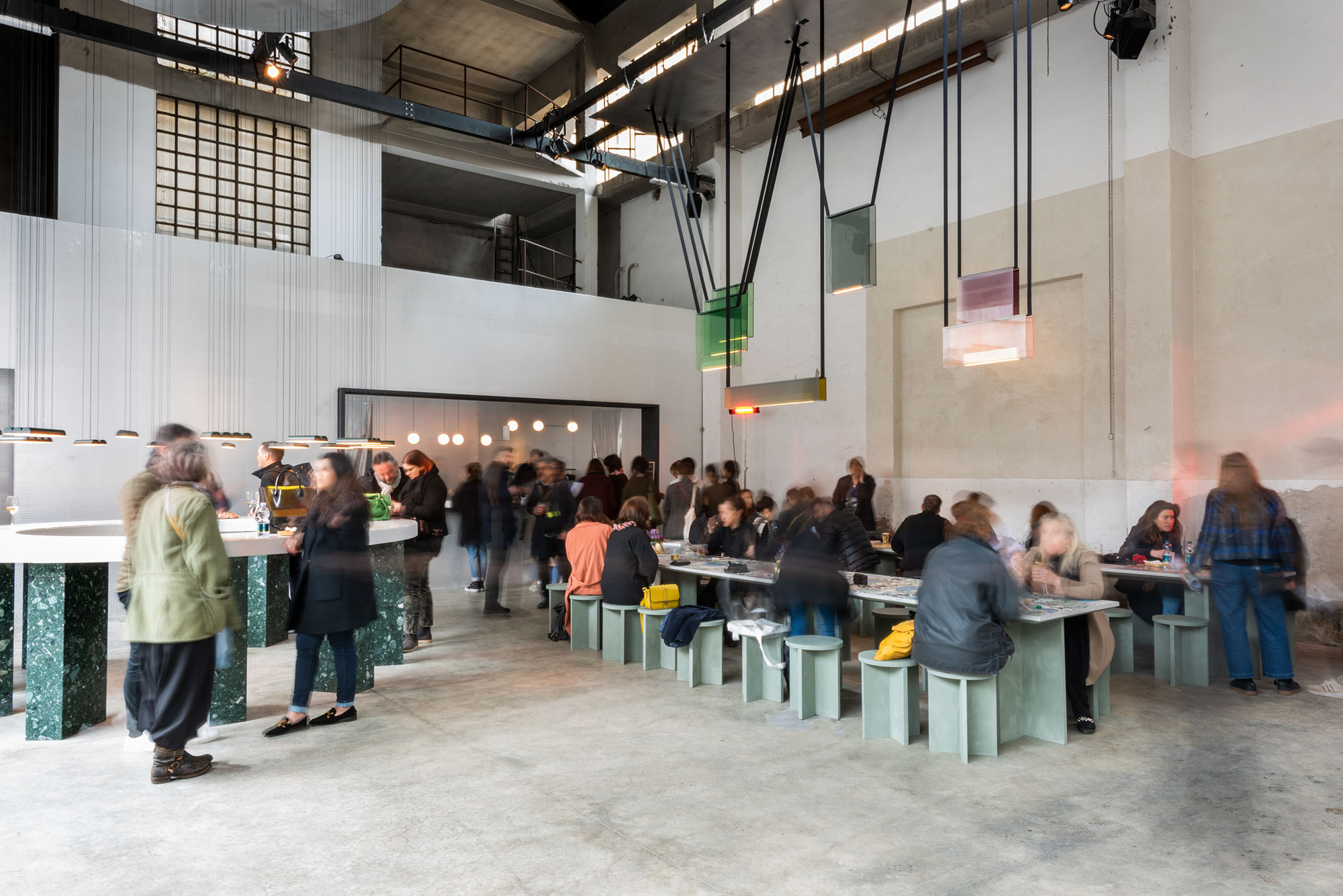 How we turned a defunct panettone factory in Milan into an open-air restaurant for Fuorisalone 2019
Design cannot exist without dialogue.
For this year's Fuorisalone, Lambert & Fils and DWA Design Studio wanted to host a space defined by hospitality, a site that would act as a sanctuary during the hustle of Milan design week. So, we created
Caffè Populaire:
a six-day concept caffè bringing people and design into dynamic encounters through the essentiality of food.
The Venue: Exhibition curators Alcova had taken over the former panettone factory of Giovanni Cova & Co. in Milan. Founders Joseph Grima and Valentina Ciuffi are reclaiming many of the city's forgotten locations of historical significance and recasting them as venues for independent design.
In its raw form, the concrete factory was extremely compelling, but we were now tasked with reimagining the site's open-air rooms into a multisensory space filled with installations from a collective of international design talent. Our two new lighting collections, Sainte and Hutchison, would fill the lofty space and create a conversation of opposites—raw and refined, past and present.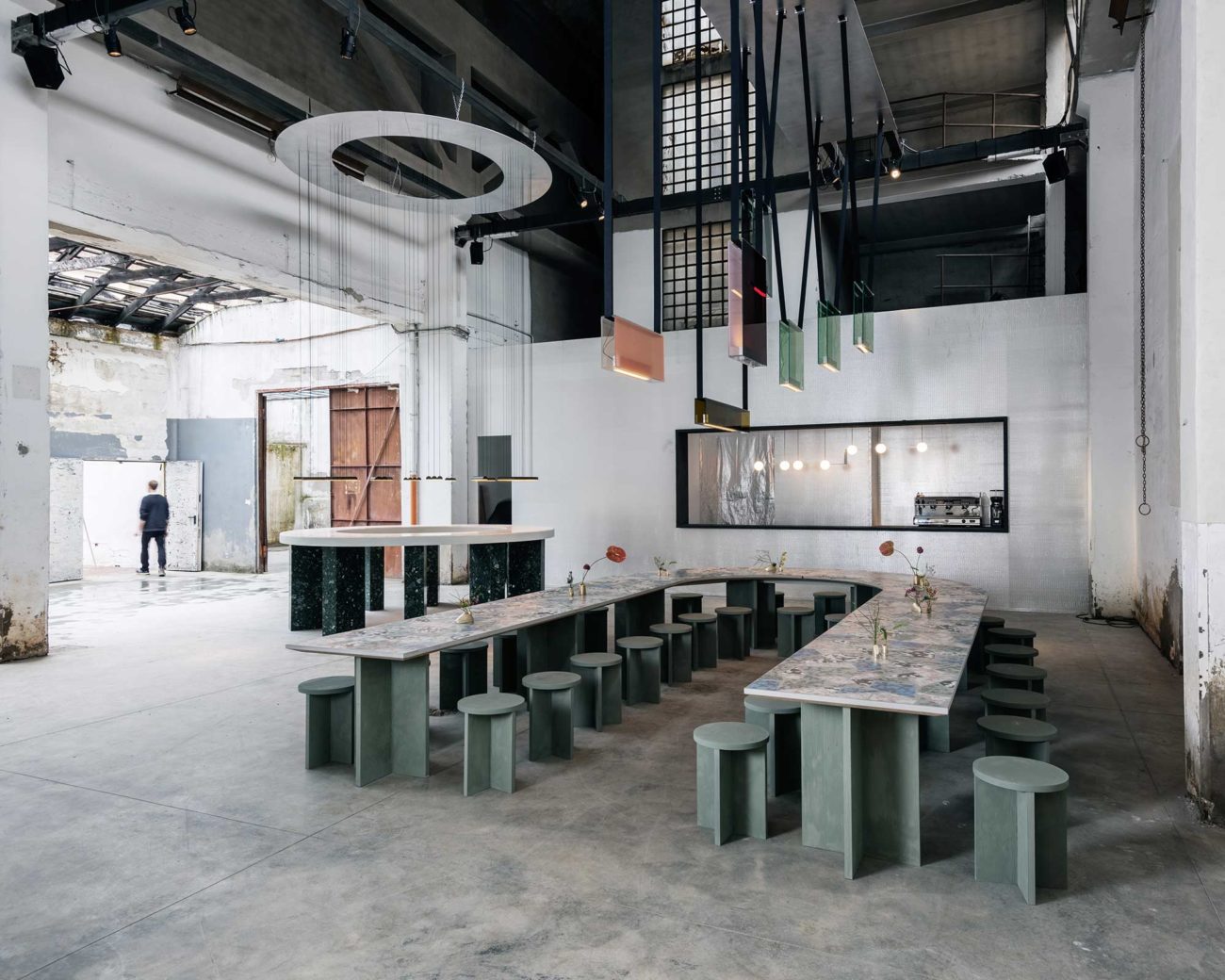 The Concept and the Collaboration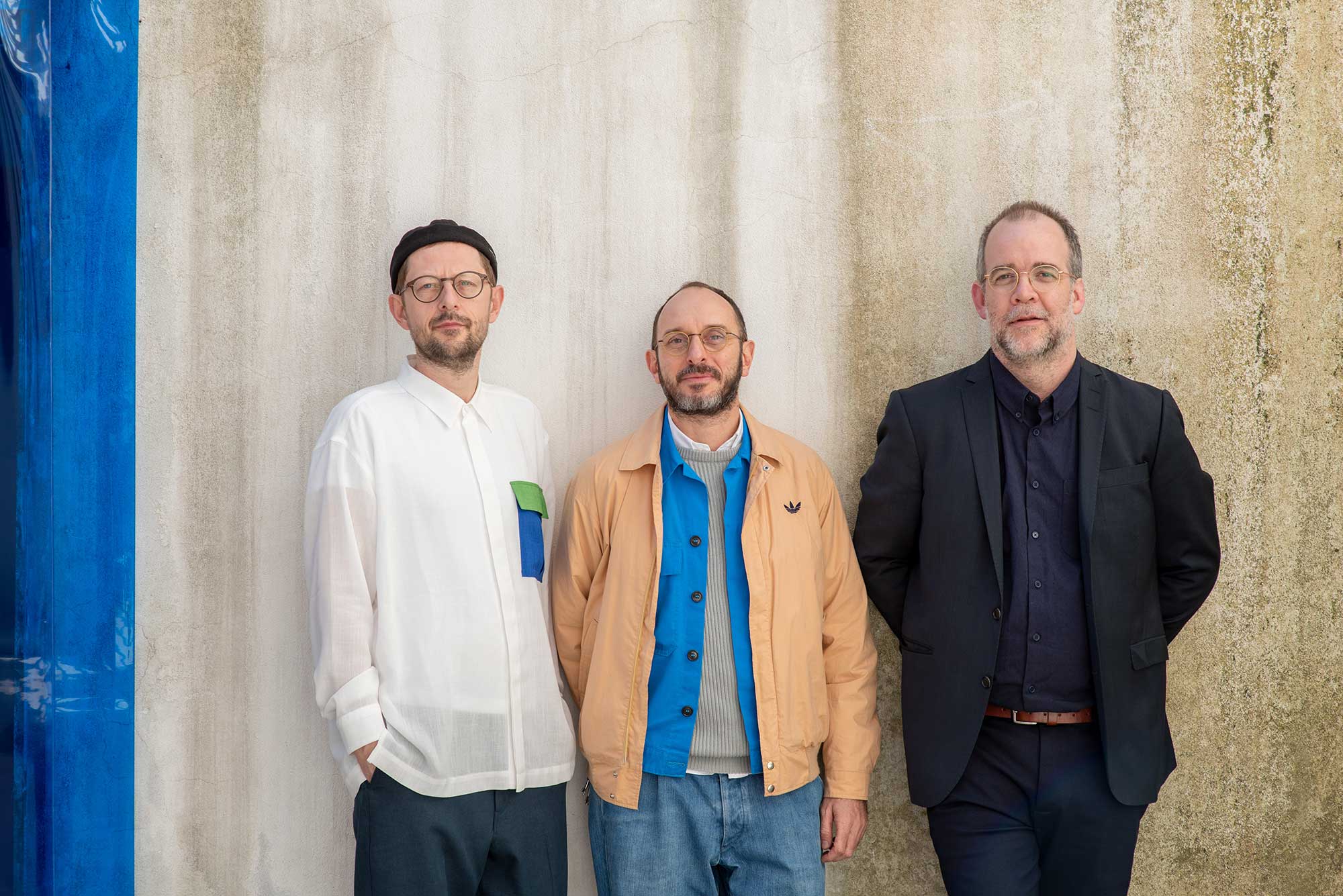 When our founder Samuel Lambert met Frederik De Wachter and Alberto Artesani, the founders of DWA Design Studio, there was an immediate connection on the topic of dialogue in design—how to create spaces activated by those who inhabit it. From this spark (along with some excellent consulting by our press officer Marie de Cossette) our Fuorisalone exhibition was born.
"Caffè Populaire was about turning our shared values into a collaboration," explain the three hosts. "To create a down to earth and generous human encounter."
Frederik and Alberto wanted to offer a series of scenographies to visitors, layering texture, light, furniture, objects and food to incite curiosity and conversation. We were so excited to see them at work. A renowned Milanese scenography studio, DWA has created spaces around the world, designing from what they like to call, "a new alphabet of living."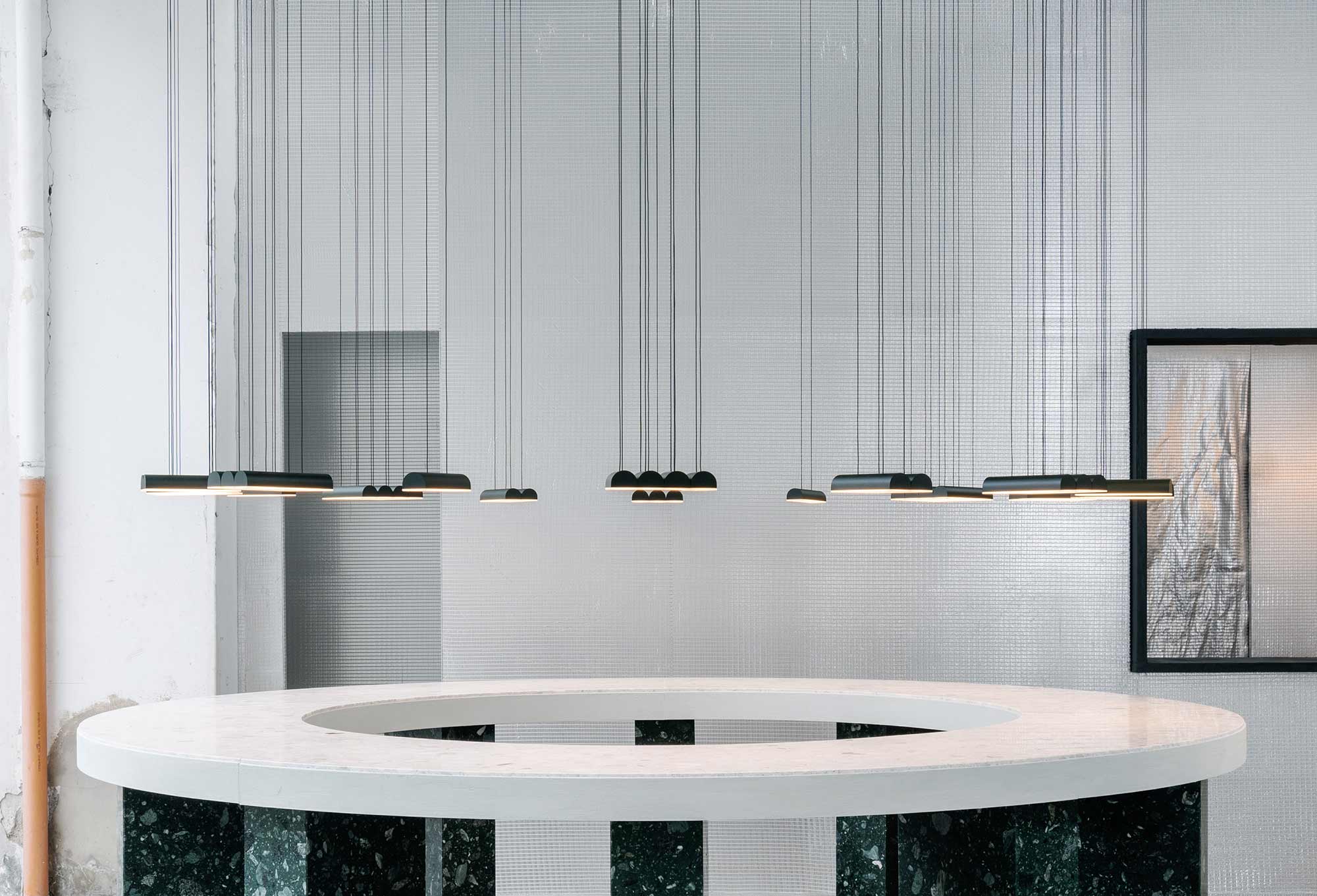 The soaring ceilings of the former Giovanni Cova & Co. factory could not be more ideal for dramatic lighting installations—and we had some new additions to the Lambert & Fils family that we wanted everyone to meet. Our modular Hutchison Collection made its first international appearance at Caffè Populaire. A thoughtful study of soft curves and hard lines, the pendant creates a rivalry of vertical and horizontal forces and a play of scale and repetition. Alone, it self-defines as a frank, decorative light. In multiples, it evokes the iconic patterns of Middle Eastern archways and Roman terracotta roofs. A series of quad Hutchison pendants propelled from the 20-foot drop ceiling and hovered playfully atop Caffè Populaire's communal standing bar.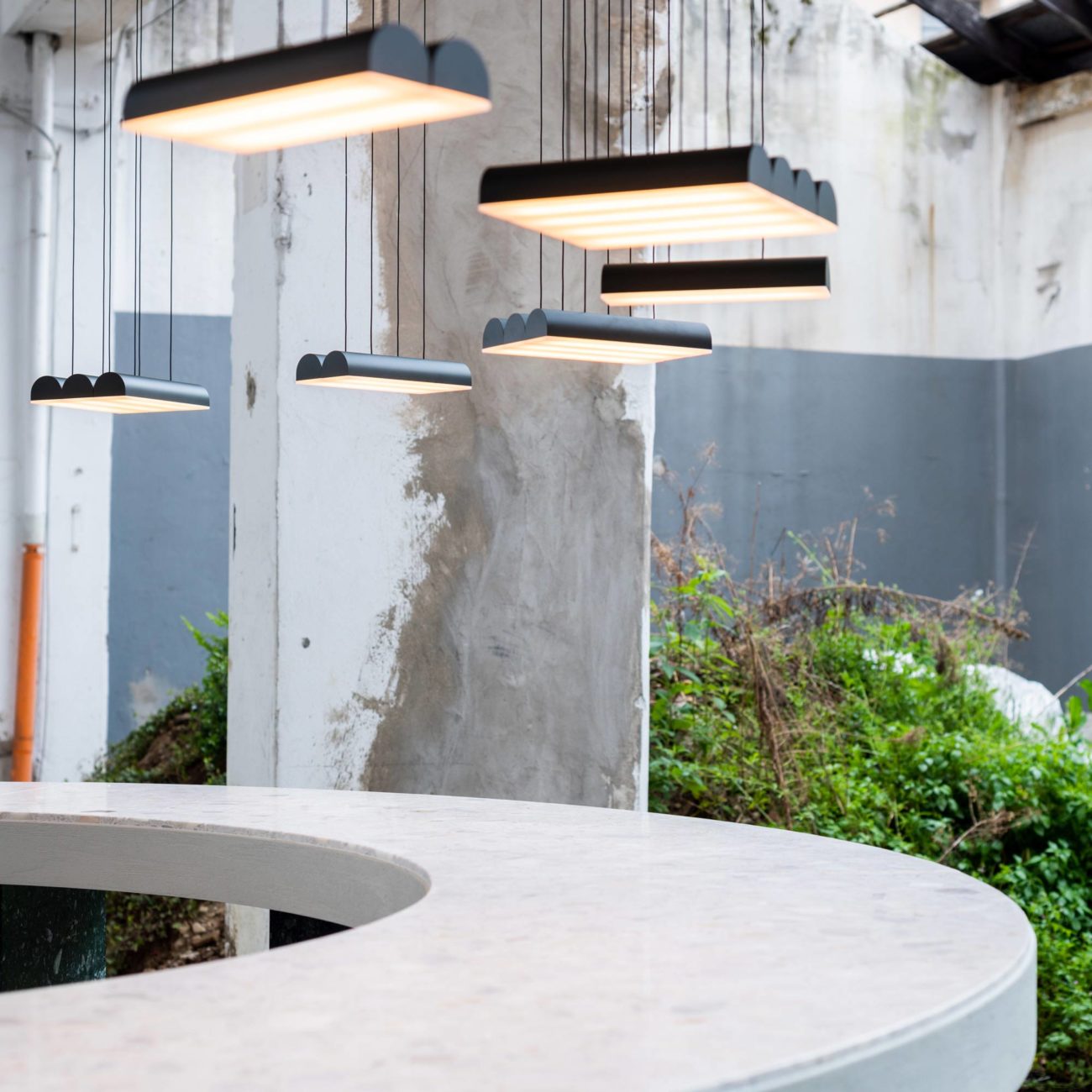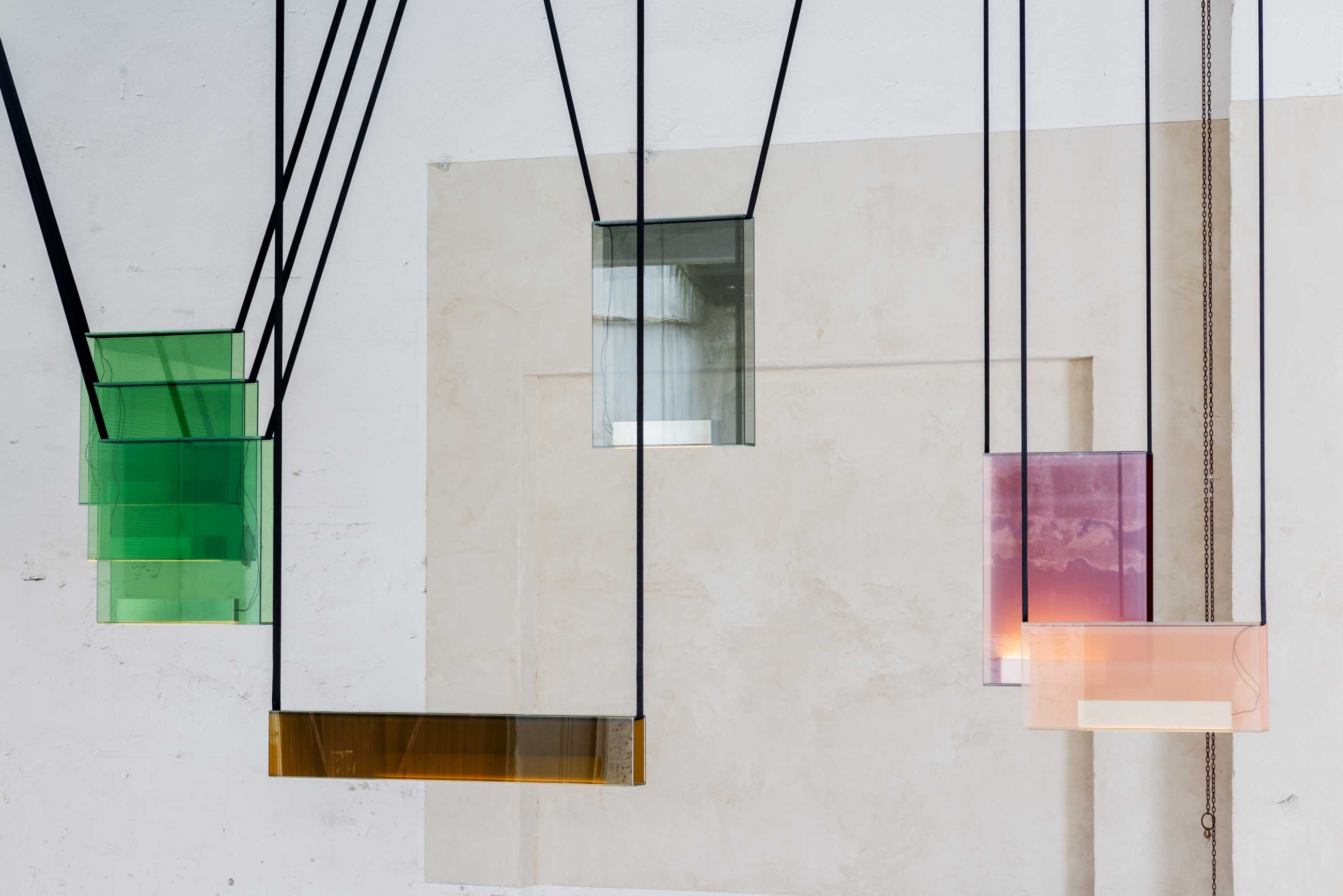 Meanwhile, over a massive table made from concrete and marble dust, our new Sainte Collection created a dance of contrasting materials and equilibrium of opposing powers. What began as a Lambert & Fils team project developed into a year-long collaboration between founder Samuel Lambert and the studio's former lead designer Rachel Bussin. Sainte reimagines the archetypal rectangle in layered, colourful glass, an elegant mass floating in space and supported by robust nylon straps. It is a collection about the forces that anchor us, a suspension light in dialogue with gravity.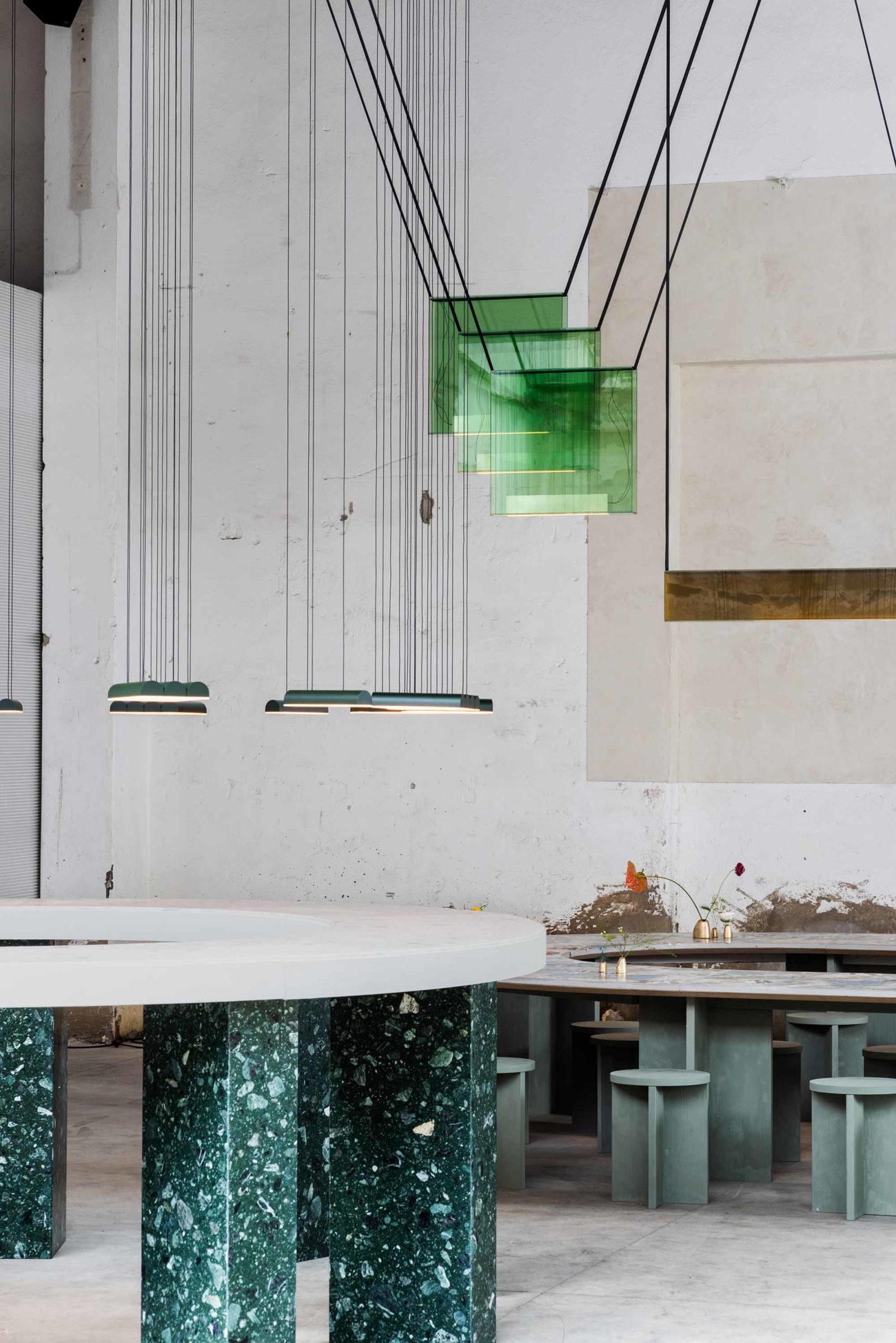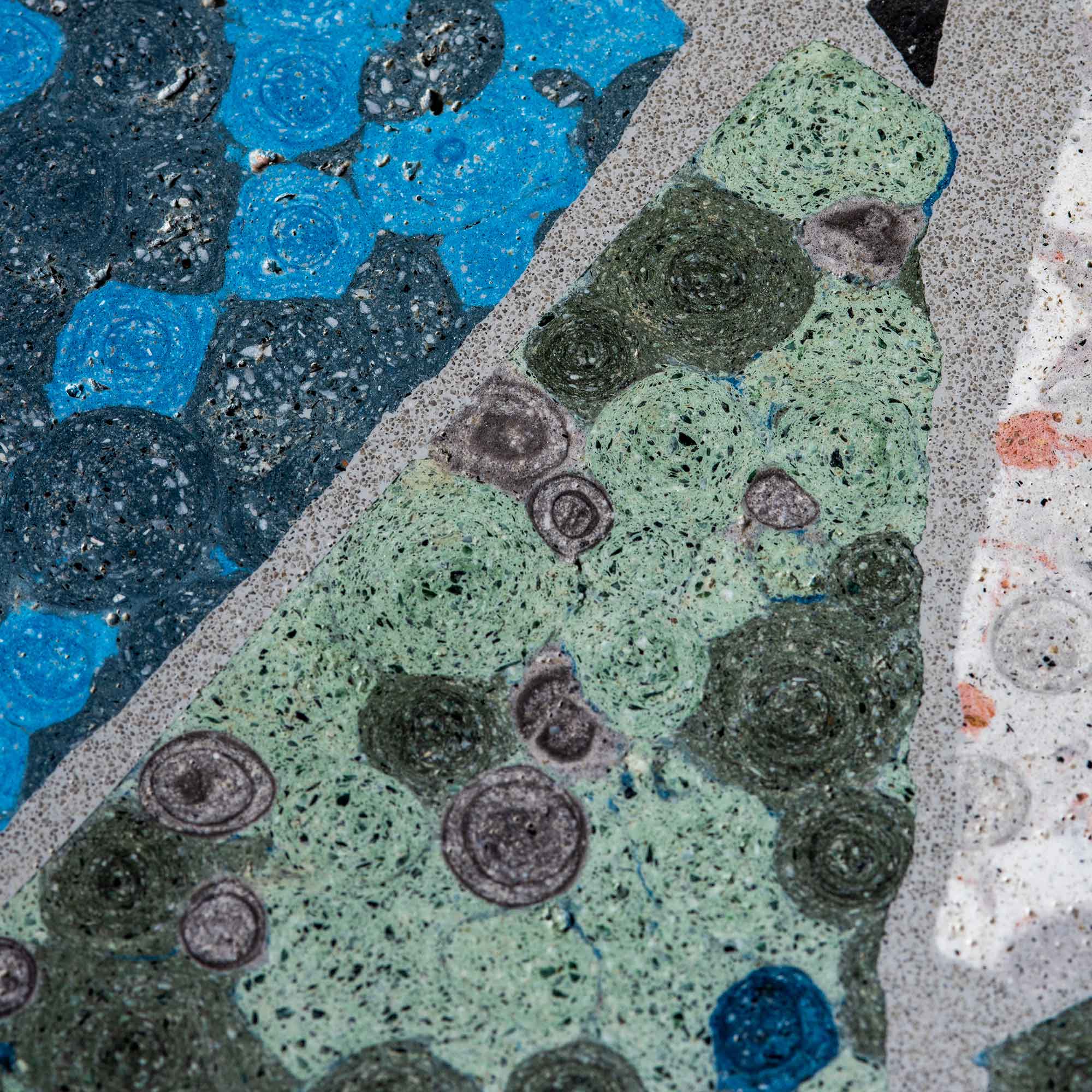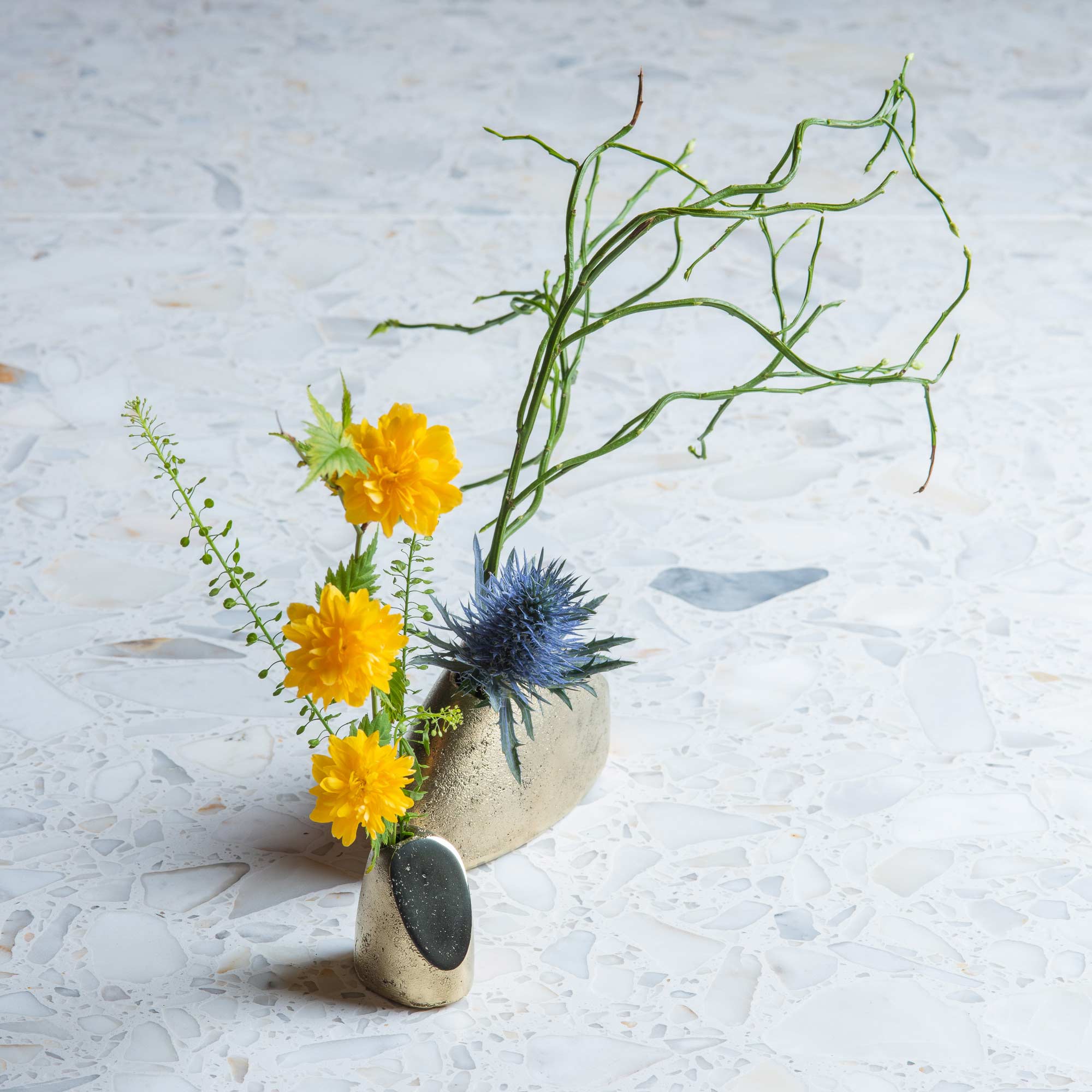 Caffè Populaire hosted design talent from Italy and abroad, saturating the room of the factory with intriguing textures and objects. A custom U-table was made from pre-cast slabs of Silipol fragments—a revolutionary ecological material composed of compressed marble and granite dust. The circular bar was a combination of white and green terrazzo. Both were designed by DWA Design Studio in collaboration with Italian manufacturer Mariotti Fulget. We learned that the exquisite palladina effect of Silipol was quite a memorable one—it has been used in metro stations across the city and has a strong visual reference for Milan locals.  
As for the table settings, meals at Caffè Populaire were served on Noé Duchaufour-Lawrance's Caractère collection, designed for the 250-year-old French porcelain makers Revol. Surfaces were decorated with bronze flora blocks by Mercury Bureau. Antoine Architectural Finishes swathed the communal table base and chairs in a muted green and created a large plaster backdrop as well as a dramatic red nook with tactile walls.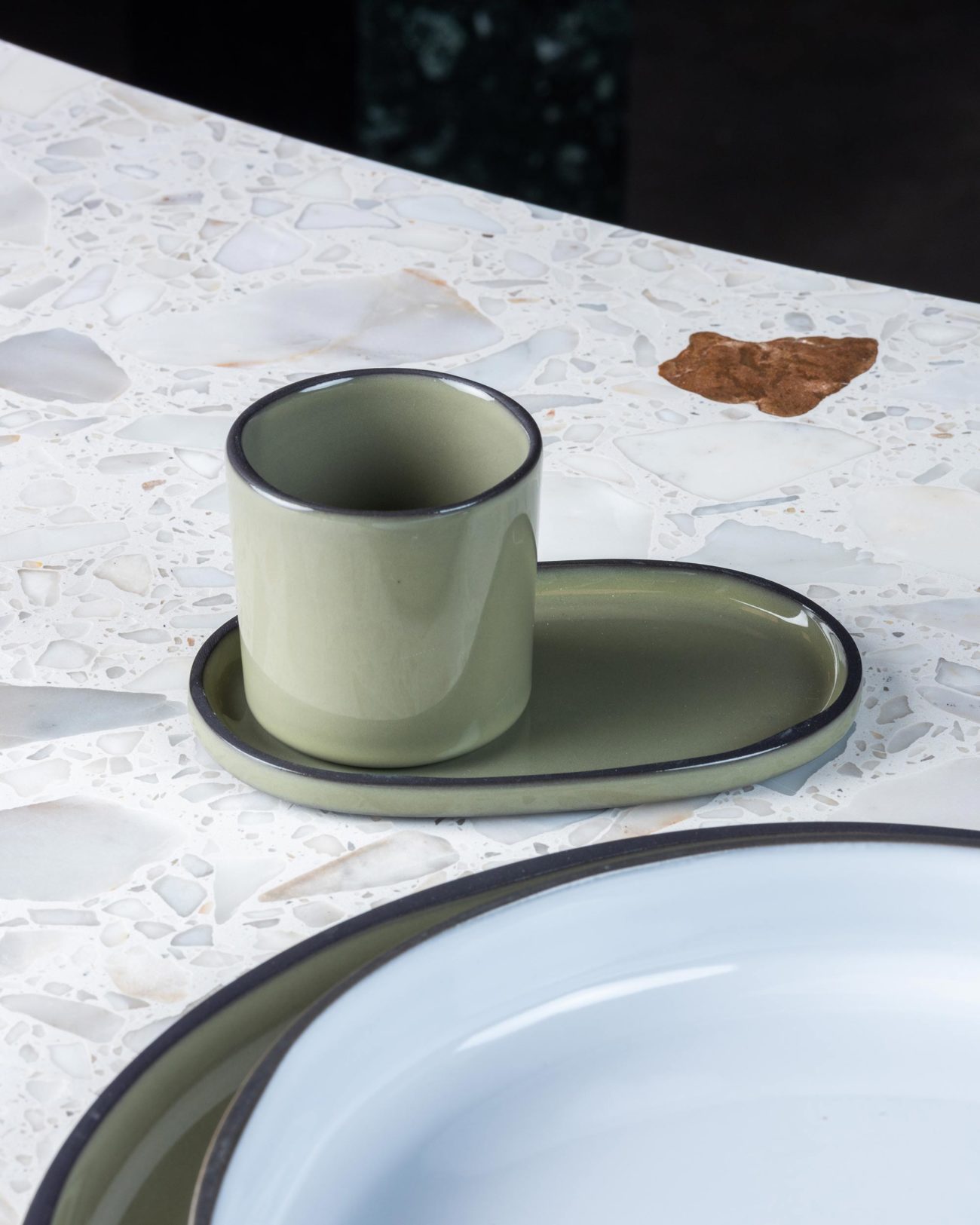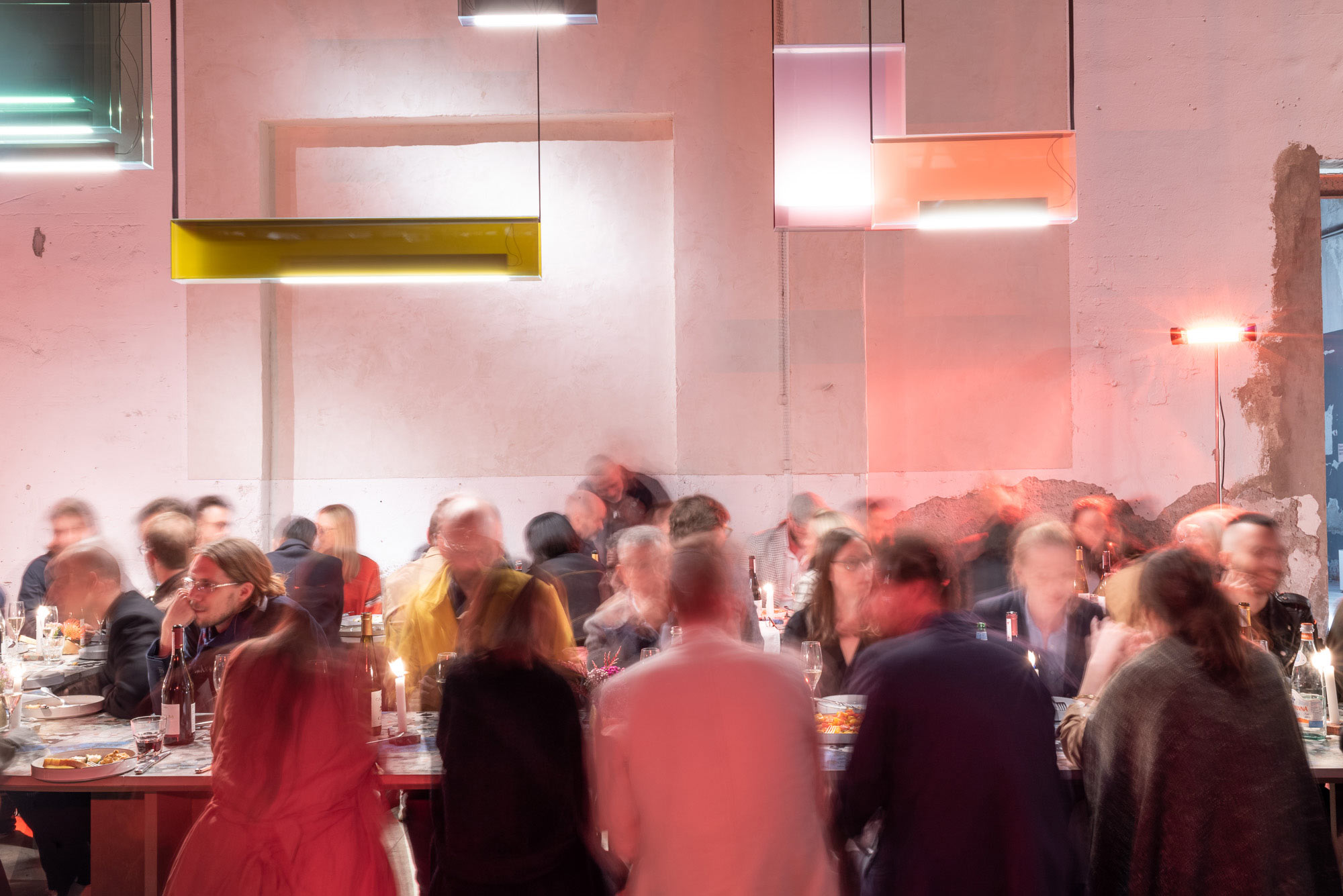 Drink & Taste was chosen to create Caffe Populaire's breakfast, lunch and dinner offerings. They prepared daily menus using fresh market ingredients for the caffè's public hours, as well as private dinners and breakfasts—including special events with Sight Unseen and Damn Magazine. Some of our guests also had the chance to sample ALMA, a new kind of pasta developed by Milanese creative studio Casalinghe di Tokyo and designer Chiara Andreatti. And of course, the wine was flowing (this is Italy after all), generously provided by Terre D'Oltrepo for all six days of the pop-up.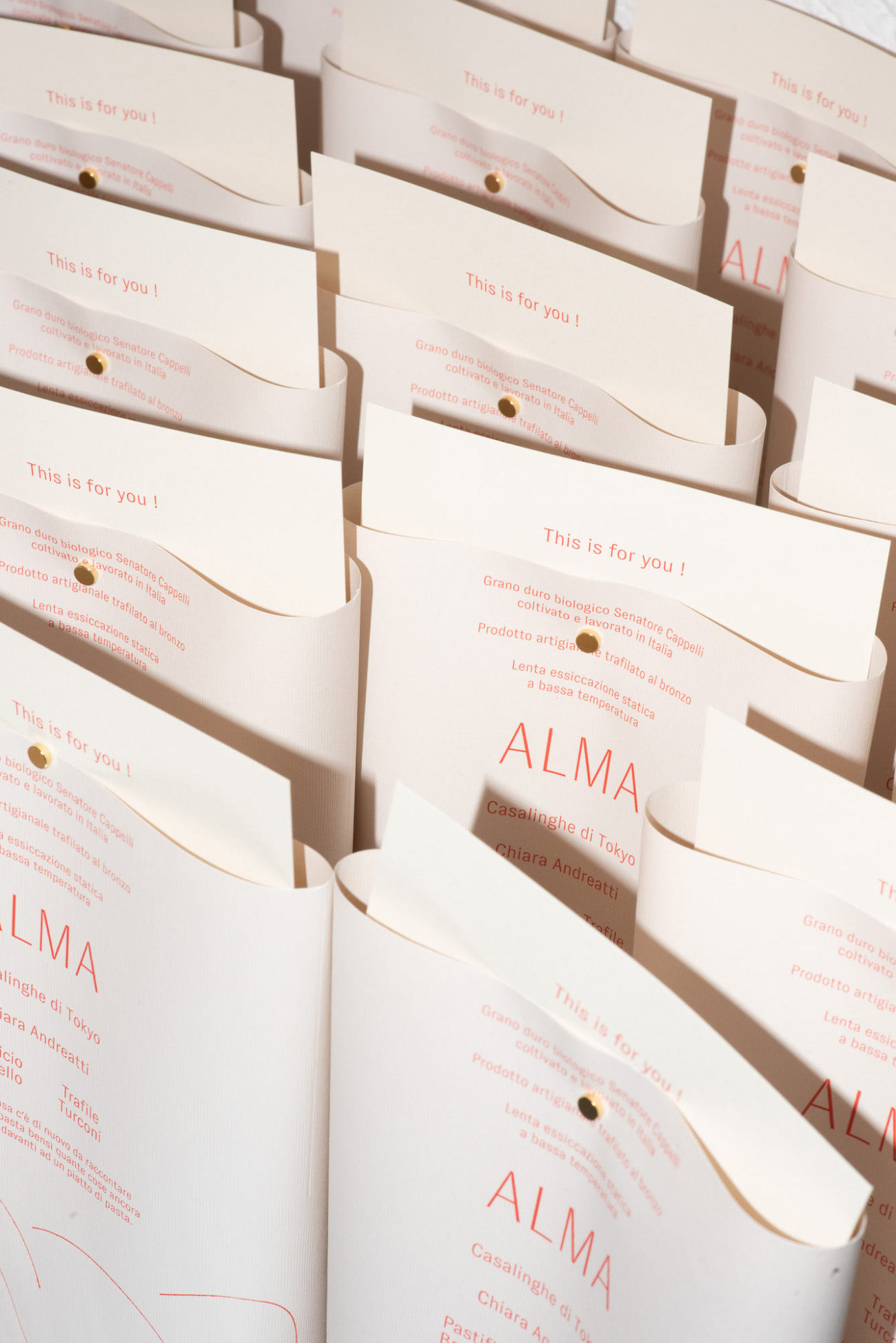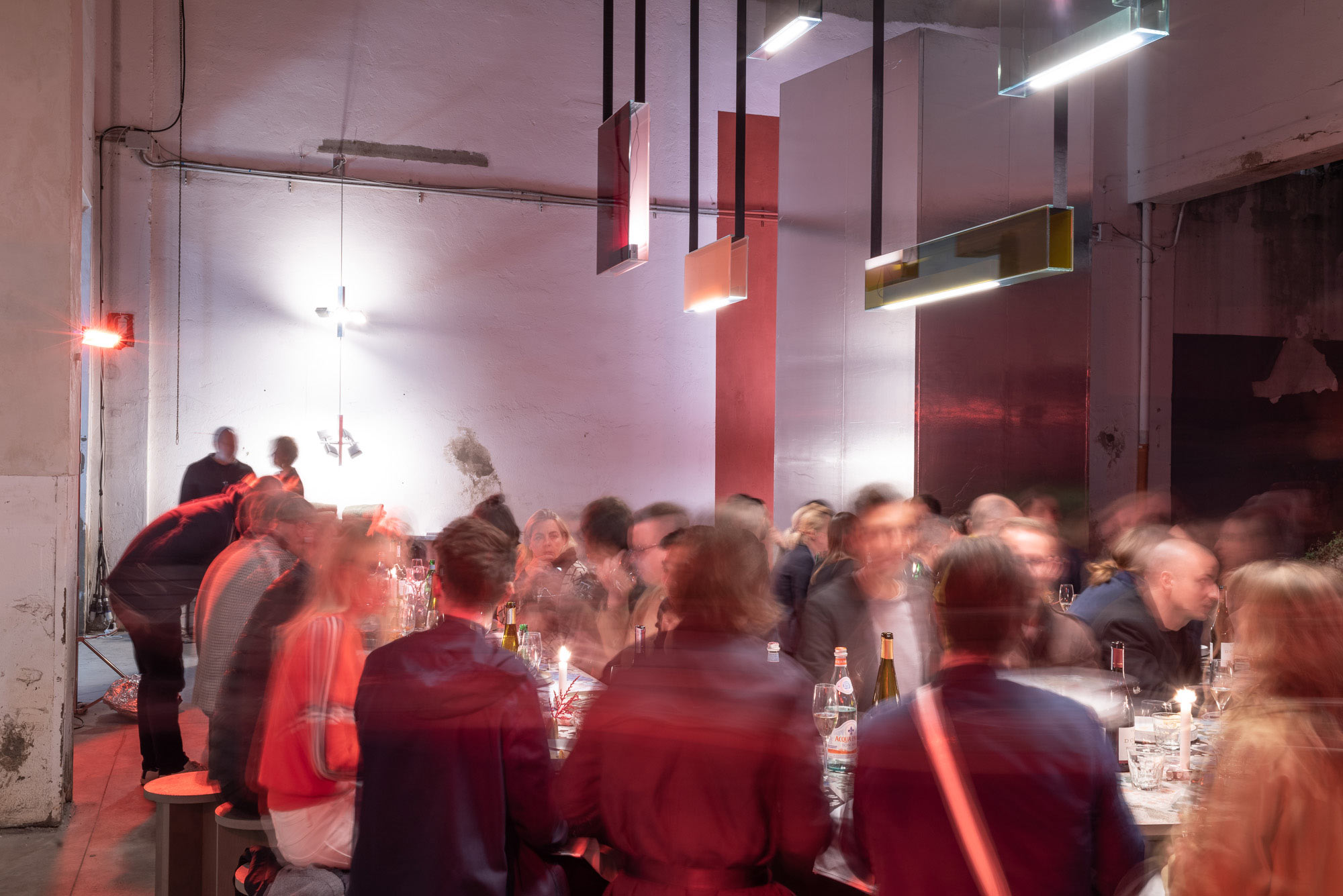 Thanks to everyone who visited Caffe Populaire during Fuorisalone, shared a meal with us, and exchanged ideas and stories. Until next time, Milan,
ti vogliamo bene!